Skip to Content
Today, Gaslamp Quarter is known for its great abundance of entertainment sites and its nightlife venues. However, it's also known for its historical places. From ghostly hauntings to the wild west, San Diego's Gaslamp Quarter has an entrancing past. This blog will go over 8 historical facts and places in Gaslamp Quarter that you must visit!

New Town
The center of San Diego was originally located in what is known today as Old Town. However, in 1867, Alonzo Horton, also known as the father of downtown, purchased several hundred acres of waterfront property and built a wharf at the end of 5th Avenue. There he began to develop what was called "New Town", which began to thrive within a few years.
Rabbitville
Prior to 1867, the area which today makes up downtown San Diego was jokingly known as "Rabbitville." This was due to many failed attempts by early settlers to build a city on San Diego Bay. During those early days, although the people couldn't seem to get the city built, they were able to successfully make a great habitat for the local rabbit population - hence the nickname "Rabbitville".
The Gaslamp Name
Unlike the much older original Spanish settlement of "Old Town", in "New Town" the city installed around 50 gas lamp street lights to light up this new modern part of the town. The name "New Town" was lost over the years as the rest of the city grew but with great insight; the city kept the Victorian atmosphere for most of this area, including the signature Gas Lamp Street lights designs, hence its name.
Stingaree
The Stingaree was a neighborhood of San Diego between the boom of the 1880s and the cleanup of 1916. The reason for the neighborhood's fame was its role as the home to the city's "undesirables" such as gamblers. The red-light district became known as the Stingaree, which was named for the stingrays in San Diego Bay in early New Town. Gambling halls, bars, and brothels thrived in the Stingaree until 1912 when the city announced it would host the Panama-California Exposition. At that time, officers raided numerous houses of ill-repute, arresting over 100 women, who were subsequently shipped out of town by train.
Wyatt Earp
San Diego in the 1880s was booming, and a host of shady characters coming from all places to take advantage of the city's growth. One of them was Wyatt Earp, the west's most famous lawman. Having brought a sense of law and order to cattle drives in Kansas and battled outlaws in Tombstone, Arizona, Earp made his way to San Diego in 1885, where he prospected copper and gold, operated three gambling halls, and organized gambling excursions in México.
Canine Celebrities
Just how Tokyo is famous with their canine celebrity, Hachiko, San Diego has two canine celebrities as well: Burn and Greyfriars Bobby. Burn, a St. Bernard-Spaniel mix, became a local legend with his friendly temperament and fiercely independent lifestyle. Living on the streets of downtown, he led parades, ran with the fire brigade, and greeted dignitaries and commoners alike. Another local canine celebrity is Greyfriars Bobby, a Skye terrier from Scotland. He always accompanied policeman John Gray on his daily rounds. When Gray died suddenly, Bobby is said to have loyally slept by his grave for more than 14 years. Greyfriars Bobby was immortalized into a bronze statue, symbolizing loyalty, service, and friendship. Both dogs' bronze statues can be visited in the pocket park behind the Gaslamp Museum at the intersection of 4th and Island Avenues.
Haunted Happenings
Gaslamp is not only known for its colorful past; it's also known for the spirits that reside here. The most haunted house in the Gaslamp Quarter is the Davis-Horton House. It has become a widely documented location for paranormal activity. It was even featured on My Ghost Story segment on the Biography Channel! Popular tours including the Ghosts of the Gaslamp Walking Tour at the Davis-Horton House are offered year-round. This is a place you cannot miss on your next visit to Gaslamp Quarter.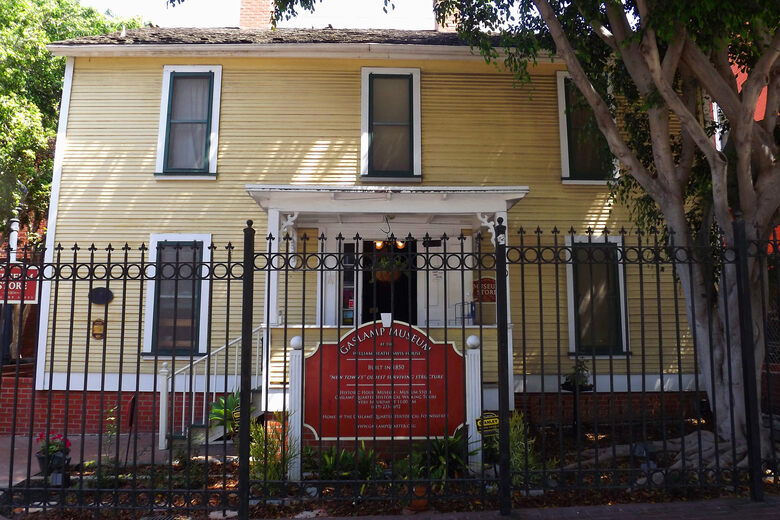 Chinatown
Most people think that the center of Asian culture in San Diego is on Convoy Street in Kearny Mesa. However, at the beginning of the 1860s, Chinese abalone fishermen, who were not allowed to live in other sections of the city, settled around an 8-block area adjacent to the Gaslamp Quarter. Today it is known as the Asian Pacific Thematic Historic District (APTHD). There are 22 buildings considered historically significant to this history between this area. You can visit the San Diego Chinese Historical Museum that goes over the entire history.
The entire Gaslpamp Quarter is full of history. There are nearly 100 historical buildings in the 16.5 walkable blocks that make up San Diego's Gaslamp Quarter. This makes it an incredible place to visit as you'll never run out of things to explore. When visiting the historic sites in the Gaslamp District, stay at Comfort Inn Gaslamp Hotel. Comfort Inn Gaslamp Convention Center hotel is the ideal place for all Gaslamp Quarter visitors. Situated perfectly in the heart of downtown San Diego, Comfort Inn is the most affordable of all the hotels located in the historic district, the city's premier entertainment, dining, and shopping area. To book your stay, give us a call at (520) 441-6422 or click here.