Skip to Content
Downtown San Diego Restaurants Are Open for Inside Dining!
Starting August 31st, San Diego businesses including restaurants, movie theaters, gyms, museums and hair and nail salons resumed indoor operations with modifications under newly issued California state guidance related to the coronavirus pandemic.
As announced by California Governor Gavin Newsom on Friday, August 28th, San Diego County restaurants, places of worship and movie theaters can reopen indoor operations, but are only allowed up to 25% occupancy or 100 people, whichever is less. Museums, zoos and aquariums are also required not to exceed 25% occupancy. Gyms, dance studios, yoga studios and fitness centers may operate with 10% occupancy. Hair salons, barbershops, tattoo parlors, piercing shops, skin care and cosmetology services and nail salons may operate indoors with normal capacity. Regarding retail businesses, Dr. Wilma Wooten, the county's public health officer, said the county would follow state guidelines that they're to be restricted to 50% occupancy. Previously there were no such occupancy restrictions for retail. All indoor businesses must still abide by social distancing and face covering mandates, as well as post an updated and detailed safe reopening plan. Restaurants are still ordered to close by 10pm, with all customers required to be off-premises by 11pm.
Governor Gavin Newsom released a new state system that sorts counties into one of four tiers based on the extent of the area's COVID-19 outbreak. San Diego County had made it to "tier 2," the only county in Southern California to earn that designation. Unlike neighboring counties like Orange, Riverside, Los Angeles and Imperial counties, the outbreak is not considered "widespread."
-----------
Top of the Market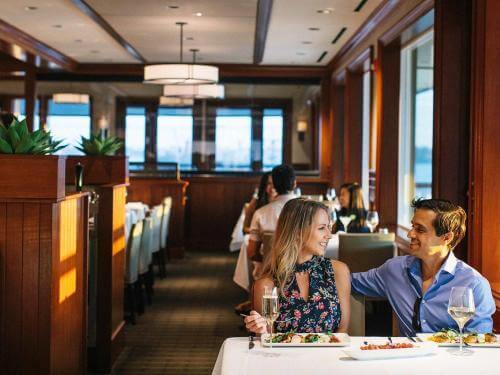 Seafood and Waterfront Fine Dining
Top of the Market is perched upstairs above The Fish Market, presenting beautiful and expansive views of San Diego Bay from the Coronado Bridge to Point Loma and offering the freshest and finest in seafood cuisine. The intimate and elegant setting of the restaurant is enhanced by exhibition-style cooking and superior, attentive service. Since 1989, Top of the Market has continued to provide each guest with a memorable dining experience.
---------
Café 222
If you're looking for the best breakfast in Downtown San Diego, look no further than Cafe 222! They've been named one of San Diego's "Best Breakfast" spots since they opened more than 25 years ago. Bobby Flay even came by for their peanut butter and banana stuffed French toast – which he featured on "Best Things I Ever Ate." Whether you're in the mood for waffles, biscuits and gravy or eggs Benedict, Café 222 has you covered. They are also known for their homestyle lunches – a few favorites include their tuna melt topped with American cheese on white bread and their famous Southern style chili.
------------
La Puerta
>
TACOS, TUNES, & TEQUILA… that's what they are all about. La Puerta is a hangout for people who want to be treated with a high level of hospitality while enjoying quality Mexican food and drinks in a fun atmosphere. Their Sinaloa inspired family recipes demand they make nearly everything on the menu fresh daily and they never use artificial flavorings or enhancers. Their specialty drinks are made with the freshest ingredients and juices. They squeeze every lime, and while it may take a few minutes, they strive to make a damn good drink that delivers maximum refreshment. Whether you're enjoying their Carne Asada tacos or our fresh-squeezed margaritas, you will be shown sincere appreciation for your business and a genuine good time.
----------
Greystone Steakhouse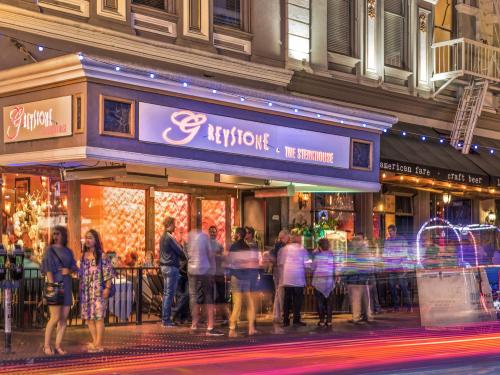 Greystone Prime Steakhouse & Seafood has been a landmark in the historic Gaslamp Quarter in Downtown San Diego for 20 years. A family-owned restaurant with family values, dedicated to delivering excellent service, Greystone was recently recognized as one of the top 10 Steakhouses in California and top 5 steakhouse in San Diego
----------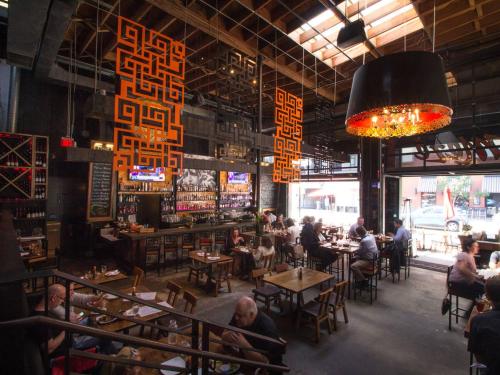 San Diego's Best Greek Fusion
Although its namesake may mean "small plates," Mezé Greek Fusion delivers anything but a small experience. The variety and versatility of the Greek islands are felt in more than just the cuisine of Mezé – they inform the very core of what it means to be a guest.
Only a few steps away from the convention center and Comfort Inn Gaslamp, Mezé offers a gorgeous 7.000 square feet multi-level space with private and semi-private areas and rooms. Renowned as one of the world's healthiest and delicious cuisines, Mezé and its unique fusion twist on Greek cooking will make your experience unforgettable.