Skip to Content
Are you visiting San Diego for Thanksgiving and looking for the ultimate holiday meal without the hassle of cooking? Thanksgiving is a festive and exciting time in San Diego, officially marking the start of the holiday and winter season! Because of the beautiful fall weather, you can easily enjoy outdoor activities and events or be a part of Thanksgiving feasts, turkey trots, and much more! If you're looking for a place to relax after a hefty Thanksgiving meal, book your stay at Comfort Inn Gaslamp, where our staff can easily accommodate you!
Operacaffe
Located just 0.3 miles away in the legendary Gaslamp quarter, Operacaffe puts an Italian twist on Thanksgiving! This is an excellent option if you are staying with Comfort Inn Gaslamp and are looking to eat somewhere within walking distance. The meal costs $26 a person and consists of bacon-wrapped turkey filled with a lamb-beef blended stuffing, roasted Brussels sprouts, mashed potatoes and cranberry sauce.
Vistal
Located just 1.1 miles away from Comfort Inn Gaslamp at the incredible Bayfront area, Vistal has amazing bay views for their Thanksgiving Day prix fixe menu. Perfect for anyone trying to stay close but also have a scenic meal! This special costs $75 for adults with an optional $35 wine pairing, while kids 12 and younger cost $35. Their special menu features items such as pickle-brined turkey, sweet corn risotto, autumn squash and pumpkin cheesecake!
Thanksgiving Day Dining Cruise
Flagship Cruises and Events offers a two-hour Thanksgiving Day Dining Cruise. Flagship's docking area where guests will board and deboard is only 1.1 miles away from Comfort Inn Gaslamp! Explore 25 miles of scenic waterfront with live music and free Wi-Fi! Create a new family tradition that allows you to enjoy beautiful weather, views and great company! Upon arrival, you will be given complimentary champagne or sparkling cider. Next, the chef will prepare you a three-course prix fixe meal consisting of all the Thanksgiving classics, with delicious options for vegans and vegetarians as well. The ship boards at 12:30 pm and returns at 3:00 pm. This event costs $79.50 for adults and $47.50 for children.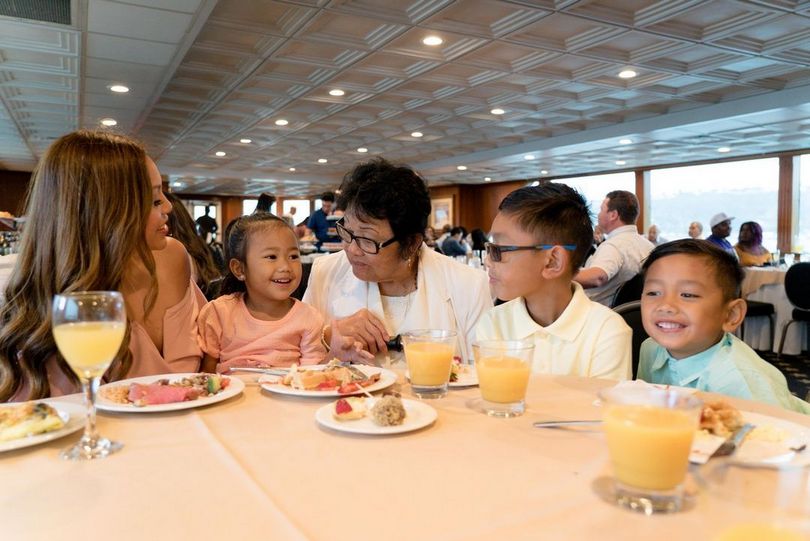 San Diego Mission Bay Resort
If you are looking to get out of downtown a bit, this restaurant near Mission Bay's beautiful water is only 6.3 miles away from Comfort Inn Gaslamp! They will be hosting Thanksgiving from 1:00 pm to 8:00 pm. The 3-course menu is $65 a person and $25 for children 12 and younger. This menu features items such as butternut squash bisque, turkey served three ways, halibut or prime rib, and a bourbon pecan pie tart.
San Diego L'Auberge Del Mar
If you are looking to explore different parts of San Diego, L'Auberge is only 20.3 miles away from Comfort Inn Gaslamp! This feast costs $85 per guest and $45 for children and offers a unique experience with superb views. The Thanksgiving menu features sweet onion tart, Cypress Grove goat cheese, heritage breed turkey, Snake River Farms aged prime rib and California olive oil cake.
Coasterra
Located just 3.8 miles away, Coasterra offers some stunning views and will be doing a Thanksgiving Day Buffet from 1-7 pm. Great if you want a large meal right near Comfort Inn Gaslamp! The menu costs $64.95 for adults and $17.95 for kids ages 6-12. This all-you-can-eat meal features winter squash soup, salads, prime rib, roasted turkey, cornbread stuffing, macaroni and cheese, candied yams and more!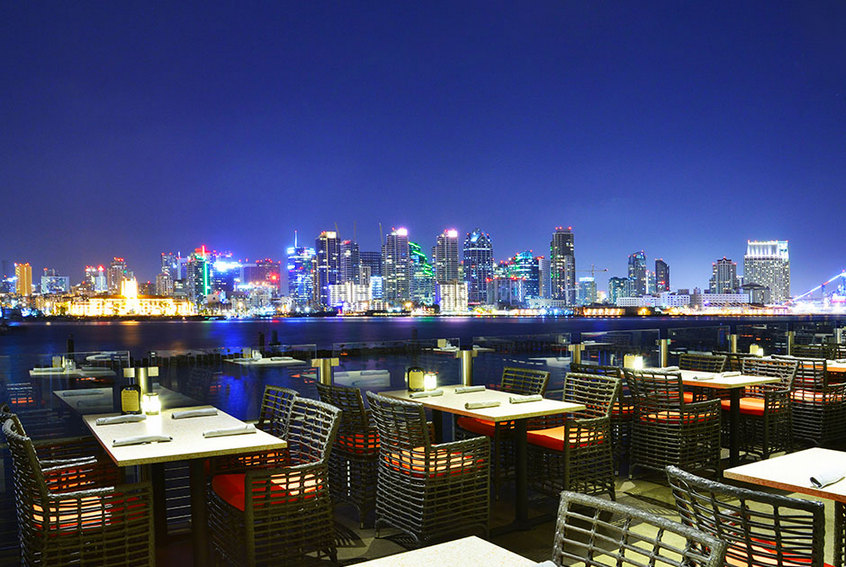 JRDN at Tower23
If you want your Thanksgiving to be accompanied by the sounds of the beach, JRDN is located just 9.4 miles away from Comfort Inn Gaslamp! This beachside restaurant offers a three-course menu featuring pumpkin lobster bisque, braised pork belly, seasonal desserts and wines. Entrée prices start at $49 and this special will be served from noon to 8 pm.
Bleu Bohéme
Want to give your Thanksgiving a French Twist? Located just 5.9 miles away from Comfort Inn Gaslamp, this meal is available from noon to 4 pm at $68.95 a person or $24.95 for children 12 and under. The menu features roasted turkey, salmon, beef short rib, duck confit or mushroom ravioli. They also feature an exclusive pumpkin cocktail along with some great dessert choices!   
How Comfort Inn Gaslamp Can Assist You!
Since there are so many activities in San Diego, especially during the holiday seasons, choosing an activity you want to do can be challenging. Explore all that San Diego has to offer when you visit the main attractions or holiday events. Whether you need a place to stay for a business trip or are visiting family in or around San Diego for the holidays, the best place to get a room is at Comfort Inn Gaslamp! To book your stay, give us a call at (619) 202-4324 or click here.